PowerScore's LSAT Logic Games: Game Type Training Volume 2


Regular Price: $49.99
Sale Price: $44.99
Shipping Information
---
The PowerScore LSAT Game Type Training II provides you with the complete text of every Logic Game from LSAT PrepTests 21 through 40. Containing 80 different games, this book is an ideal training tool to increase your LSAT Logic Games score. The games are arranged in groups according to the classification system used in the renowned PowerScore LSAT Logic Games Bible, and are presented in the same order for easy cross-reference (for example, Grouping Games are covered in Chapter Four of this book and in Chapter Four of the Logic Games Bible).
Grouping the games by classification provides practice with specific types of games, allowing particular focus on the game types you find most challenging. By examining games with certain basic similarities, you can analyze the features of each game type in order to better understand how games are constructed, how they can be most easily recognized, and how they can best be solved. This is especially the case if you have already read The PowerScore LSAT Logic Games Bible. Alternatively, for more general practice with games of all types, you can use the appendix in the back of the book and do complete game sections from individual tests.
The 80 games in this book are an ideal supplement to the LSAT Logic Games Bible, LSAT Logic Games Bible Workbook, and LSAT Game Type Training I. However, even if you have not read these publications, this book provides an excellent practice resource, allowing you to develop your familiarity with various game types and with the Logic Games section in general.
At the end of this book a complete answer key is provided; however, no explanations are provided.

What's the difference between The LSAT Bibles, The LSAT Bible Workbooks, and the LSAT Training Type books?
 
---
About the Author
David M. Killoran is an expert in test preparation with over 20 years of teaching experience and a 99th percentile score on a LSAC-administered LSAT. In addition to having written the renowned PowerScore LSAT Logic Games Bible, The PowerScore LSAT Logical Reasoning Bible, and many other popular publications, Dave has overseen the preparation of countless students and founded two national LSAT preparation companies.
---
Book Details
Paperback: 122 pages
Publisher: PowerScore Publishing (November 1, 2010)
ISBN: 978-0982661802
Product Dimensions: 10.6 x 8.2 x 0.4 inches
Shipping Weight: 11.2 ounces
---
Table of Contents
Chapter One: Introduction
Chapter Two: Basic Linear Games
Chapter Three: Advanced Linear Games
Chapter Four: Grouping Games
Chapter Five: Grouping/Linear Combination Games
Chapter Six: Pure Sequencing Games
Chapter Seven: Pattern Games
Chapter Eight: Advanced Features and Techniques
Answer Key
Appendix
Endnotes
---
Related LSAT Prep Books
The ultimate guide for attacking the analytical reasoning section of the LSAT. The LSAT Logic Games Bible features a detailed methodology for attacking the games section, extensive drills, and 28 real LSAT logic games with detailed analyses.
Another title from PowerScore's Best Selling Standardized Test Preparation Bible Series
$49.99
The ideal companion to The PowerScore Logic Games Bible, providing an array of tools to help you master LSAT games. First, the book presents multiple drills to reinforce the concepts and approaches learned in the Logic Games Bible. Next, the Workbook challenges you with a variety of real LSAT Logic Games, including a discussion of the optimal setup for each game, with every rule and important logical inference discussed and diagrammed, and all of the questions answered and explained.
$34.99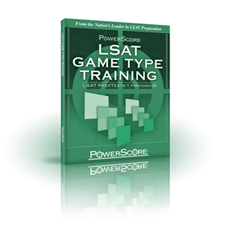 LSAT Game Type Training provides you with the complete text of every LSAT Logic Game from LSAT PrepTests 1 through 20, sorted according to the games classification system used in The PowerScore LSAT Logic Games Bible.
$29.99